Exhibition: Surviving Long Into the Future---
The Case of the Windsor Chair:
10 years of the "Windsor Department"
Friday, 14 May ― Sunday, 4 July 2021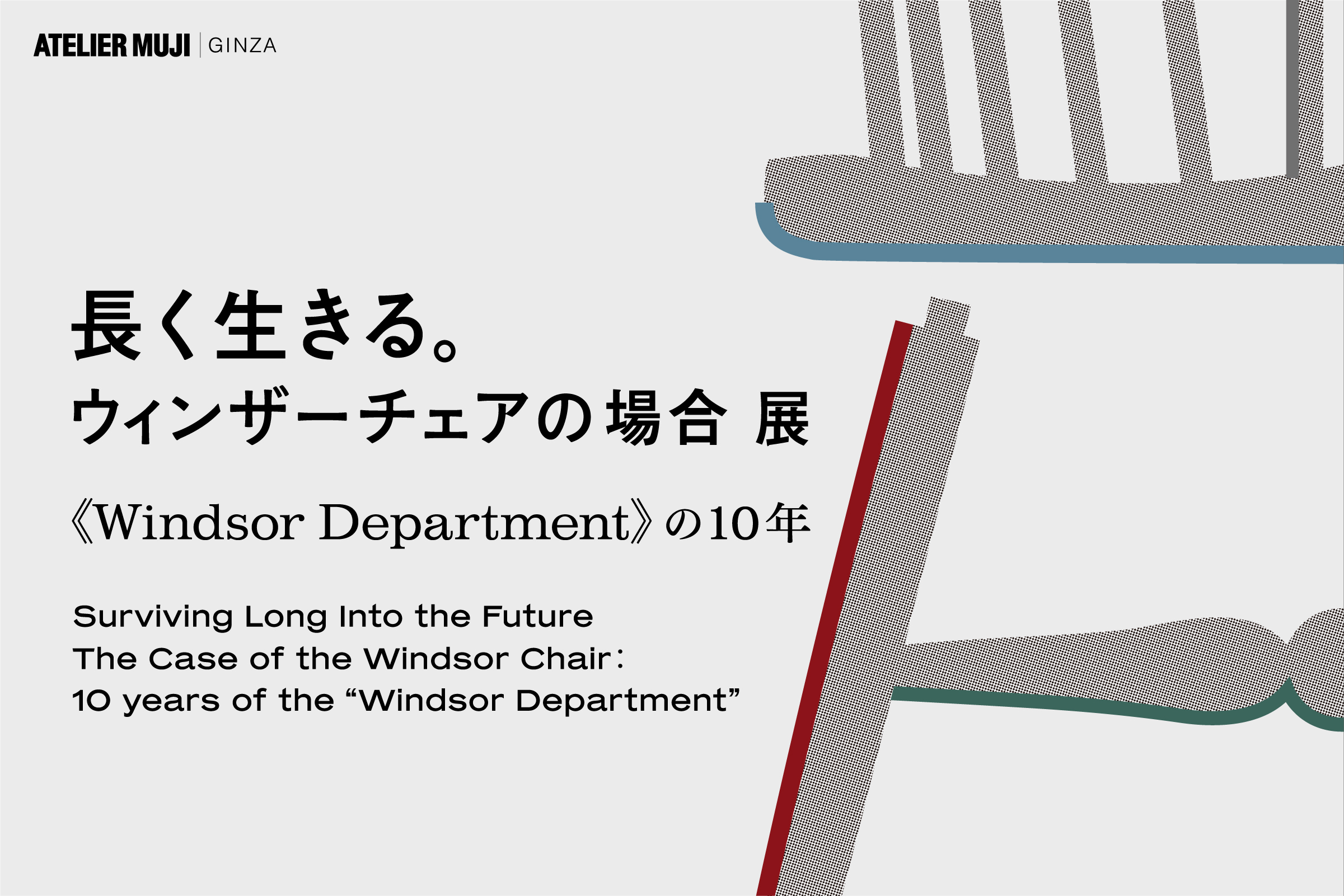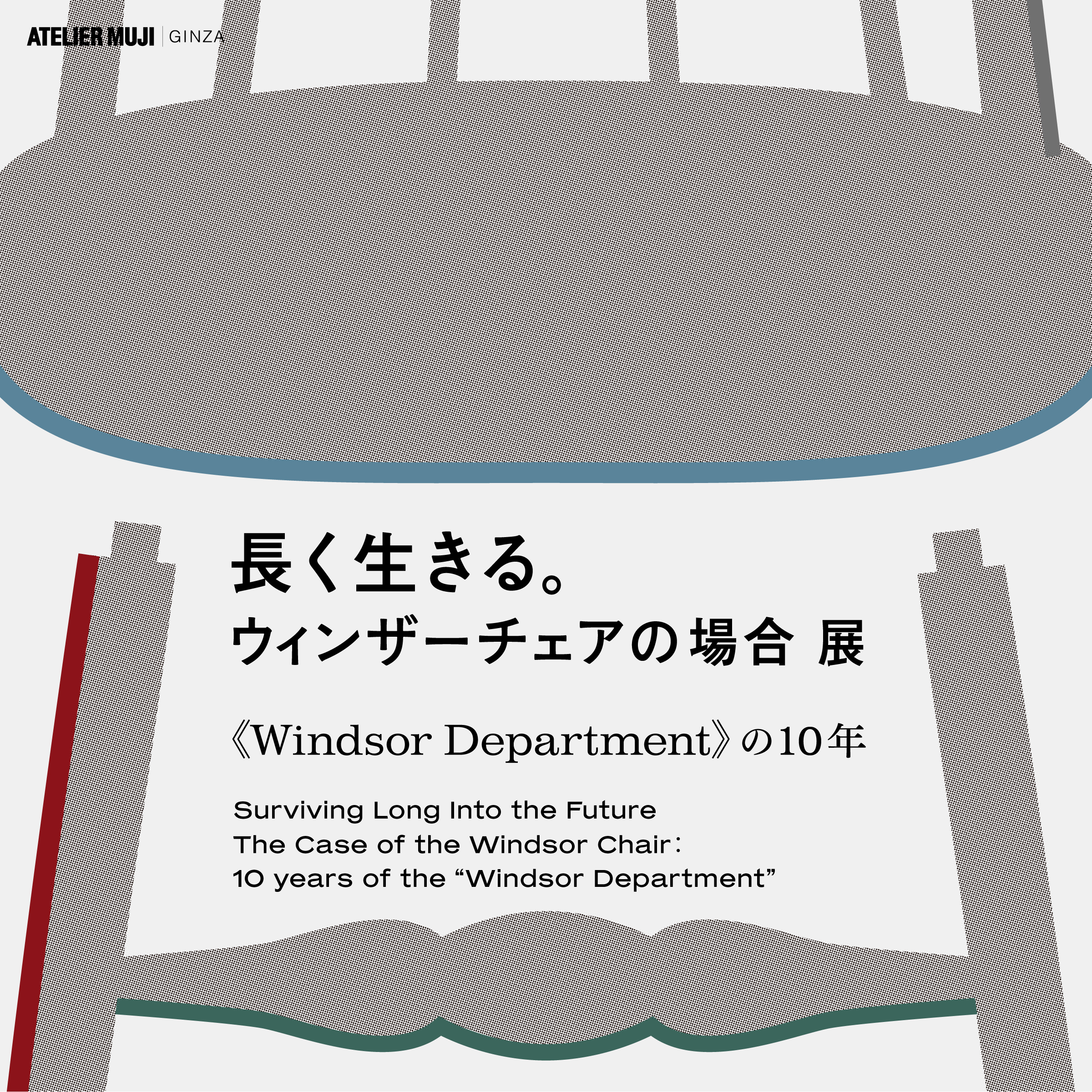 How many chairs do we encounter and sit down on in our lifetime?
We all use chairs in our everyday lives. And we all might have "that chair" that is kept in a sacred place in our heart.
ATELIER MUJI GINZA held the exhibition "Surviving long into the future" in 2019. There we showcased 50 bentwood and bent-pipe chairs including the classic "No.14" model, the original design of this type made by the bentwood technique pioneer "Thonet". This year, our "Surviving long into the future" focus is on one of the other mainstreams in chair design, the "Windsor Chair". We created the exhibition to present the activities of the "Windsor Department", three designer units; Taiji Fujimori, DRILLDESIGN, and INODA+SVEJE, all fascinated by the universe of Windsor Chairs.
It is said that the origin of the "Windsor Chair" came from the practical chairs made by joiners in the English town of Windsor and its surrounding area in the late 17th century. They were to be used by the general public and farmers, and were characterised by "having a thick wooden seat into which the legs and spindles are directly inserted", said Windsor chair researcher, Ivan Sparkes. They seem to have a mysterious charm and remind us of a nostalgic, "this is it" kind of feeling when we glance at them, even without knowing the formal definition of the "Windsor Chair".
This year, 2021, marks 10 years since the "Windsor Department" was established. Their activities are centred on searching for "Windsor-style articles": with the forms, atmosphere and indescribable charms of the Windsor Chair. The three designer units have been working on creating modern forms of Windsor Chairs, each with their own approach.
One of the notable points is that their activities find value in "re-design"-ing the chair's original form, evolving it into the future.
In this exhibition, all things around the "Windsor Chair" are presented in one place: documents and maquettes showing the thought process of the "Windsor Department", ten chairs each designed by one of the designers, and also, historical Windsor Chairs previously redesigned by ancestors from the past.
Nowadays, design tends to be understood as an activity to create something completely new. The method of the "Windsor Department" is to evolve the "original form" of the chair with designers' thoughts and experiments. It may allow us to think out of the box of conventional "Design", and guide us towards a more sustainable direction.
This exhibition is a nostalgic yet somehow very modern "Re-design" workshop to weave time and memories into forms.
ATELIER MUJI GINZA
Opening times:

11:00 ― 18:00
Venue:

Admisson free
Organizer:

MUJI

Planning collaboration:

《Winsor Department》TAIJI FUJIMORI ,DRILL DESIGN ,INODA+SVEJE

Space design:

TAIJI FUJIMORI(Gallery2) ,DRILL DESIGN(Gallery1)

Graphic design:

Mina Tabei

Cooperation:

THE FURNITURE MUSEUM, TIME & STYLE, Kanemitsu Shikkiten, Ltd, Karimoku Furniture Inc., SAKURA SEISAKUSHO INC., DANIEL Co.,Ltd., Scandinavian Living Company A/S

Planning and Management:

Household Division / Household Design, Ryohin Keikaku Co., Ltd. and ATELIER MUJI GINZA (MUJI GINZA)