Exhibition: Surviving Long Into the Future---
The Case of the Windsor Chair:
10 years of the "Windsor Department"
Friday, 14 May ― Sunday, 4 July 2021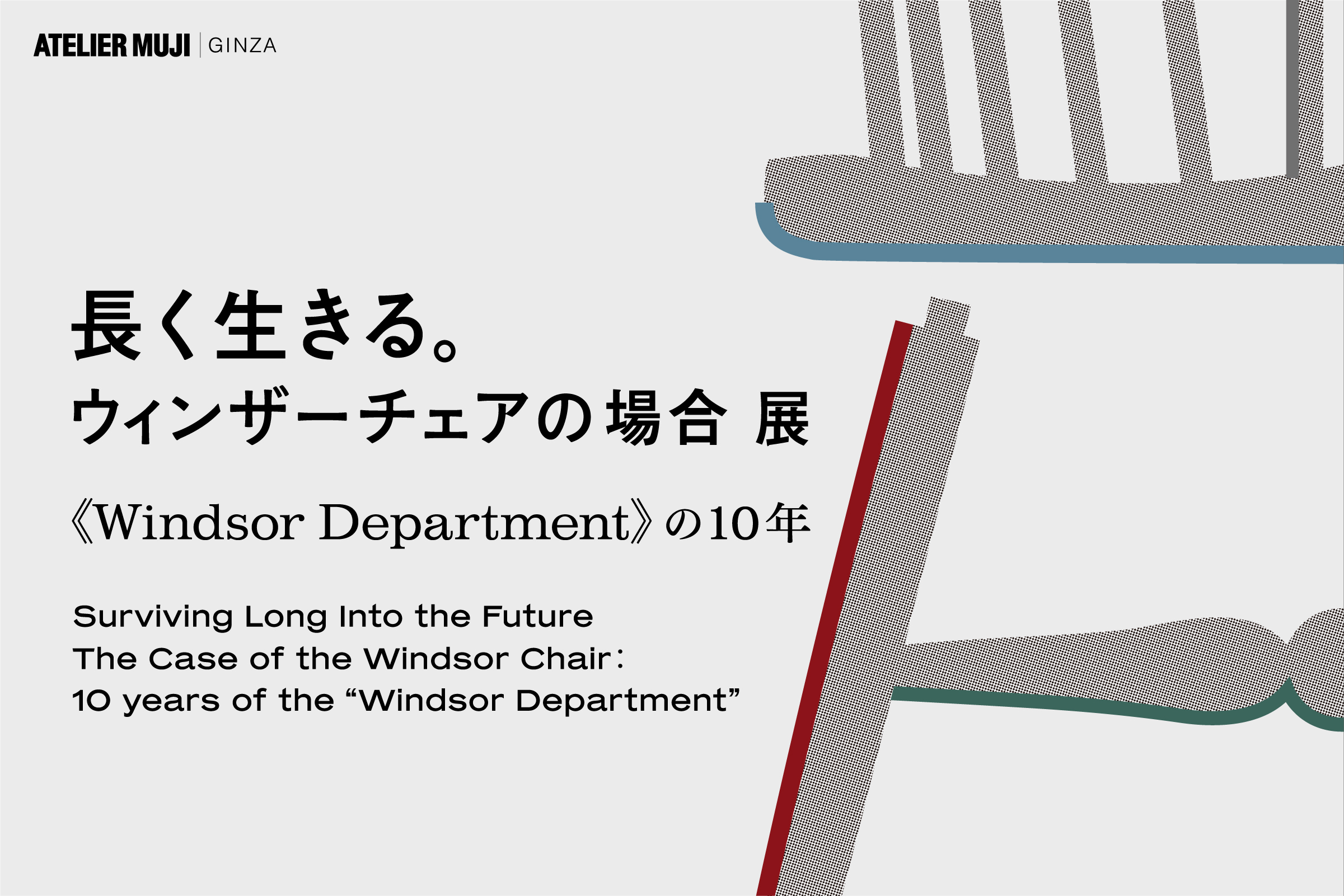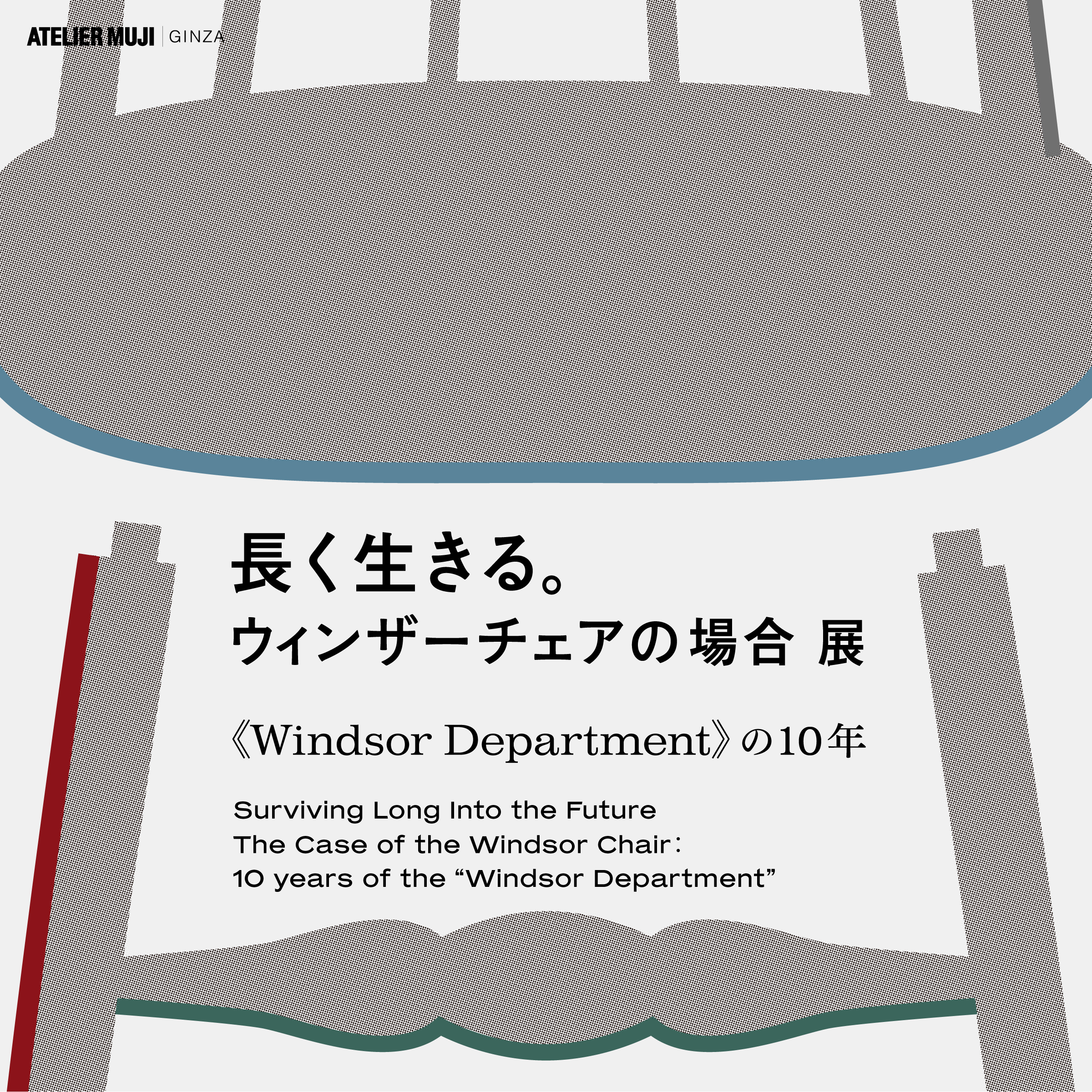 How many chairs do we encounter and sit down on in our lifetime?
We all use chairs in our everyday lives. And we all might have "that chair" that is kept in a sacred place in our heart.
ATELIER MUJI GINZA held the exhibition "Surviving long into the future" in 2019. There we showcased 50 bentwood and bent-pipe chairs including the classic "No.14" model, the original design of this type made by the bentwood technique pioneer "Thonet". This year, our "Surviving long into the future" focus is on one of the other mainstreams in chair design, the "Windsor Chair". We created the exhibition to present the activities of the "Windsor Department", three designer units; Taiji Fujimori, DRILLDESIGN, and INODA+SVEJE, all fascinated by the universe of Windsor Chairs.
It is said that the origin of the "Windsor Chair" came from the practical chairs made by joiners in the English town of Windsor and its surrounding area in the late 17th century. They were to be used by the general public and farmers, and were characterised by "having a thick wooden seat into which the legs and spindles are directly inserted", said Windsor chair researcher, Ivan Sparkes. They seem to have a mysterious charm and remind us of a nostalgic, "this is it" kind of feeling when we glance at them, even without knowing the formal definition of the "Windsor Chair".
This year, 2021, marks 10 years since the "Windsor Department" was established. Their activities are centred on searching for "Windsor-style articles": with the forms, atmosphere and indescribable charms of the Windsor Chair. The three designer units have been working on creating modern forms of Windsor Chairs, each with their own approach.
One of the notable points is that their activities find value in "re-design"-ing the chair's original form, evolving it into the future.
In this exhibition, all things around the "Windsor Chair" are presented in one place: documents and maquettes showing the thought process of the "Windsor Department", ten chairs each designed by one of the designers, and also, historical Windsor Chairs previously redesigned by ancestors from the past.
Nowadays, design tends to be understood as an activity to create something completely new. The method of the "Windsor Department" is to evolve the "original form" of the chair with designers' thoughts and experiments. It may allow us to think out of the box of conventional "Design", and guide us towards a more sustainable direction.
This exhibition is a nostalgic yet somehow very modern "Re-design" workshop to weave time and memories into forms.
ATELIER MUJI GINZA
---
A form of perception
Design to unite the future with memories of the past
When we work on chair designs, we designers sometimes feel that we are embarking on an endless journey. What could we aim for beyond a chair's self-evident function, "to be sat on"? Are we trying to show the possibilities of a specific material or manufacturing technique, or is it to show how easy and practical it is to use? Or, is it to discover a new structure, or to create a beautiful sculptural form?… Maybe all of these could be a starting point to design a new chair. Other than that, and furthermore, we feel that there is a certain mysterious "charm" in a tool called a chair. It might come from the "trail of memories" left by numerous owners from the long history of the chair.
Here is the "Windsor Chair": it is said to have been born in England in the late 17th century. Conserving memories from its very beginning, this is one of the chairs that is still being made today. The "Windsor Department" is a design society formed by three designer units who have a common interest in the chair with this "trail of memories"
One day, these three designers started wondering why they were so attracted to this form of old chair. This question was very important to help them find why exactly they wanted to design a new chair. For designers, this kind of research enables them to create forms translated from their intuitions, rather than translating their instincts into words. Therefore, each of the three designers in the group has been designing their own interpretation of a new Windsor Chair after studying their own "Windsor-style articles" over the last 10 years since the start of the society.
There is no clear answer to the question: what is the definition of "Windsor-style articles"? However, this experiment to discover forms to correspond to our sensuous feelings has given us numerous perceptions. It was all thanks to the firm presence of the "Windsor Chair". Furthermore, it has given us an important reward: when thinking of design, it enabled us to explore freely outside of the concept of old or new, and to take a more broad, sustainable path.
It will be our pleasure if you will also share the experience of these three designers' in "A form of perception".
Windsor Department
Taiji Fujimori
Opening times:

11:00 ― 18:00
Venue:

Admisson free
Organizer:

MUJI

Planning collaboration:

《Winsor Department》TAIJI FUJIMORI ,DRILL DESIGN ,INODA+SVEJE

Space design:

TAIJI FUJIMORI ,DRILL DESIGN

Graphic design:

Mina Tabei

Cooperation:

THE FURNITURE MUSEUM, TIME & STYLE, Kanemitsu Shikkiten, Ltd, Karimoku Furniture Inc., SAKURA SEISAKUSHO INC., DANIEL Co.,Ltd., Scandinavian Living Company A/S

Planning and Management:

Household Division / Household Design, Ryohin Keikaku Co., Ltd. and ATELIER MUJI GINZA (MUJI GINZA)