Life in Art JAPAN CRAFT  
Primordial design - Enlightened by nature
Friday, 29 September ― Sunday, 29 October 2023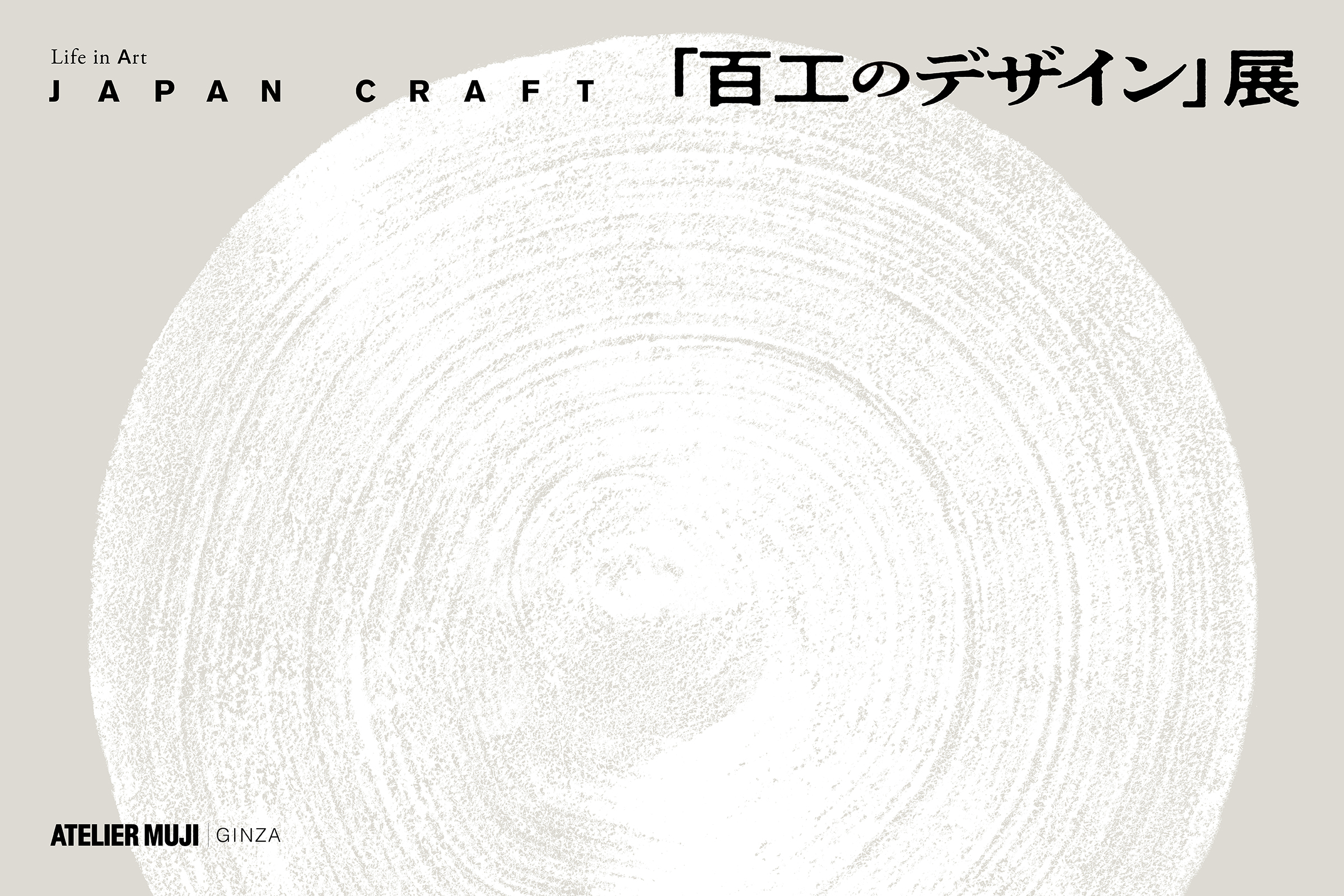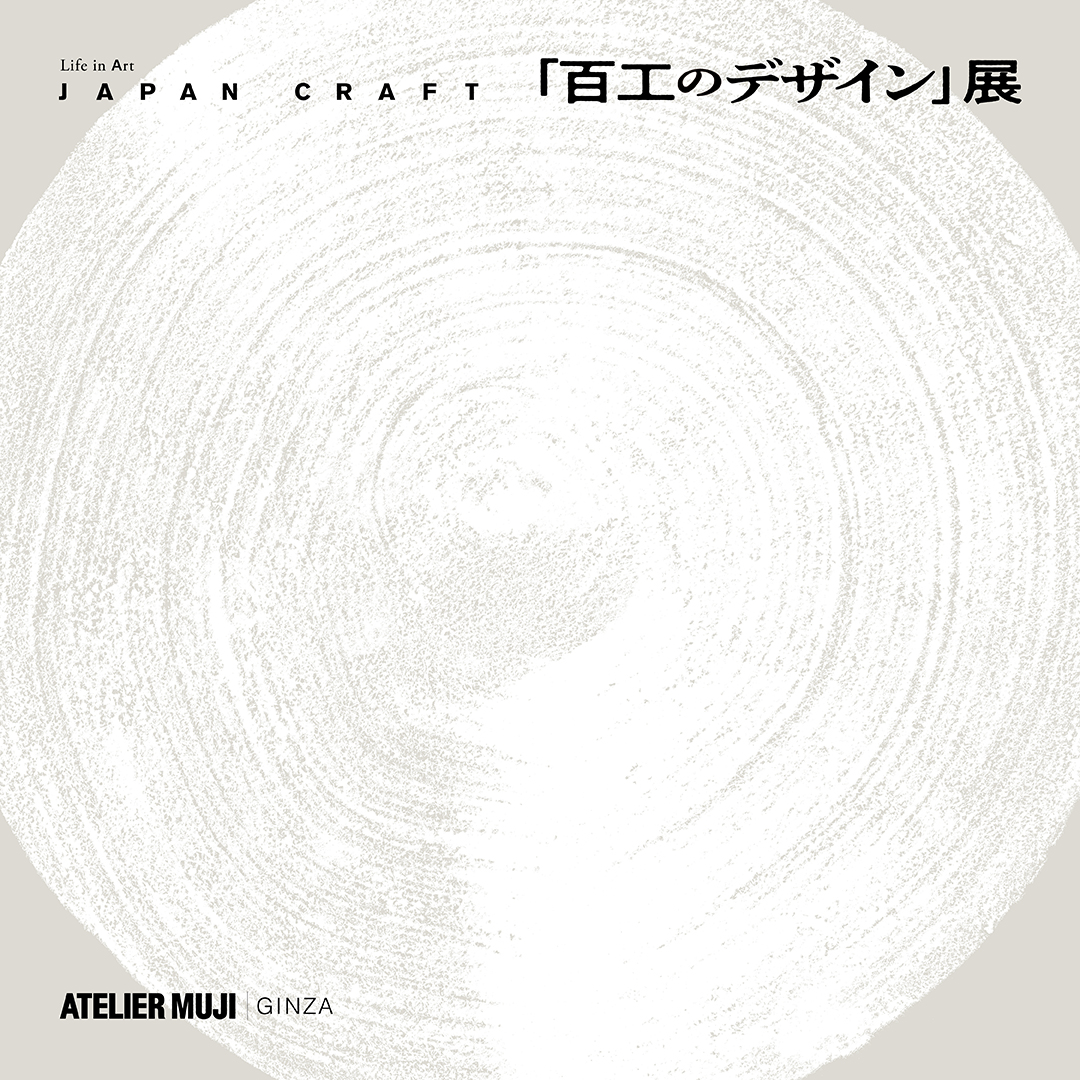 Ryohin Keikaku (MUJI) organised a project, Life in Art, to spread art (=culture), in particular, "art in everyday life". Since 2021 when it started, this project has presented exhibitions with different themes each year; "Art" (2021) and "Design" (2022). This year, we are holding a new "Craft" themed exhibition, titled "JAPAN CRAFT", focusing on daily crafts from all over Japan.
The original form of the Japanese archipelago was formed about 15 million years ago, during the genesis of the Earth. As life continued to evolve, humans, including our ancestors, developed civilisations here. Those of us who live here have been rooted in this land for a long time, and continue to create many types of tools necessary to survive. Looking at this culture in the present time, there are people in each and every region who create new articles through their sensitivity to the climate and to our way of life, and their wisdom when working with materials. The products of their activities have not been handed down through feudal customs and traditions, but are the result of their daily devotion to an obscure borderline area in the field of craftsmanship, one that is not easily grasped.
The exhibition title, "Primordial design – Enlightened by nature " defines elements of craftsmanship enveloped by the primordial spirit of creation that transcends even the scale of tradition, from a vein of craftsmanship required to create objects for hundreds, thousands, tens of thousands of continuous daily uses. This exhibition brings together the works of 104 artists who potentially possess this exact power. We invite you to look at this accumulation of rich wisdom and energy from a broader perspective and with a mind that looks into the future. We hope that awareness of this profound effect that flows beyond civilisation will propagate as a means of rediscovering culture and identity, enhancing value and respecting those involved in creation, and finally, enriching our daily lives.
ATELIER MUJI GINZA
Dates:

Friday, 29 September ― Sunday, 29 October 2023

This exhibition will have two different periods: the "Exhibition Period" and the "Sales Period".
●Exhibition Period /  Friday, 29 September― Monday, 9 October 2023
●Sales Period /  Tuesday, 10 October ― Sunday, 29 October 2023

*During the exhibition period, anyone is free to visit the venue. During the exhibition period, 104 artists' works will be displayed in one place.
*Works will be available for purchase during the sales period. Dates subject to full reservations, and admission may be restricted in case of congestion.

Opening Times:

11:00 ― 21:00
*Opening hours may change.

Venue:

Admission free
Organizer & Planning|Ryohin Keikaku Co.,ltd/Space Design|ya /Graphic Design|Fuyuki Hashizume/Film Production|Shinsui Ohara /Music|Hiroshi Kokido / Site construction|HIGURE 17-15 cas /Cooperation|panorama,YAMADA PHOTO PROCESS CO.,LTD
Artists|

Yu Uchida, Manabu Kachi, Noritaka Sekiguchi, Kenta Anzai, Yuka Owada, Atsushi Funakushi, Akio Nukaga, Yamato Kobayashi, Dai Shikai, Ryuichi Haga, Gunji Pottery, Toyo Kobayashi, Yuki Kubota, Yoshiaki Tadaki, Akiko Okudaira, Koji Takagi, Yoshimichi Joji, Tetsuhiro Iwata, Tatsuma Segawa, Kazuto Yoshikawa, Mikiko Iyama, Megumi Tsukazaki, Hitoshi Fujisaki, Ryutaro Yamada, Natsu Hasegawa, Koichi Tomiyama, Yuki Matsumoto, Atsushi Shimomura, Atsunobu Koizumi, Yoshimi Taniguchi, Satoshi Nishikawa, Yukiharu Kumagai, Hiroyuki Ueda, Saya Okihara, Takashi Tomii, Kota Arinaga, Akihiko Sugita, Kenichi Seki, Masaki Kusada, Haruya Hiroshima, Tetsuya Hioki, Naozumi Tanaka, Akihiro Nikaido, Takayuki Watanabe, Naotsugu Yoshida, Yuji Muraki, Tetsuya Ozawa, Yoshitake Kihira, Tsutomu Takeshita, Noriyuki Furutani, Akari Furutani, Hisashi Nishi, Yoji Yamada, Shiro Shimizu, Haruyuki Matsumoto, Yosuke Asai, Tetsuya Otani, Kodo Kiyooka, Takashi Ichikawa, Arata Anzai /Atsuko Anzai, Ryuki Sai, Shinichi Moriguchi, Takuro Oya, Kenichi Sasakawa, Yoshiyuki Shimizu, Yuuki Matsuba, Taku Majima, Toru Hatta, Shutaro Miwa, Atsushi Ogata, Shigeo Tanaka, Yumi Nakamura, Ryosuke Kondo, Shigeyoshi Morioka, Yuriko Morioka, Shinya Kakiuchi, Shinji Hidaka, Naoko Hidaka, Ikkei Ninjo, Rimpei Watanabe, Hideki Chono, Yoshio Kangawa, Taiga Oku, Soichi Ikemoto, Daizo Yamasaki, Daisuke Nagano, Tomoya Arai, Toshihisa Ishihara, Mayumi Hamano, Takeryo Kawaguchi, Ryohei Yamamoto/Yuki Hirakura, Osamu Mitoma, Koreya Anan, Tatsuya Unten, Daisuke Kameta, Fumi Kameta, Shingo Arakawa, Kazuhiro Tsubota, Aya Tsubota, Etsuji Noguchi, Masami Tokuda, Noritaka Yamamoto, Ken Fujimoto, Ai Tokeshi/Hiroyuki Tokeshi (Tokeshi Mokushikkou)