"Our Beloved Japanese Sweets" Exhibition
Friday, 3 February 2023 – Sunday, 23 April 2023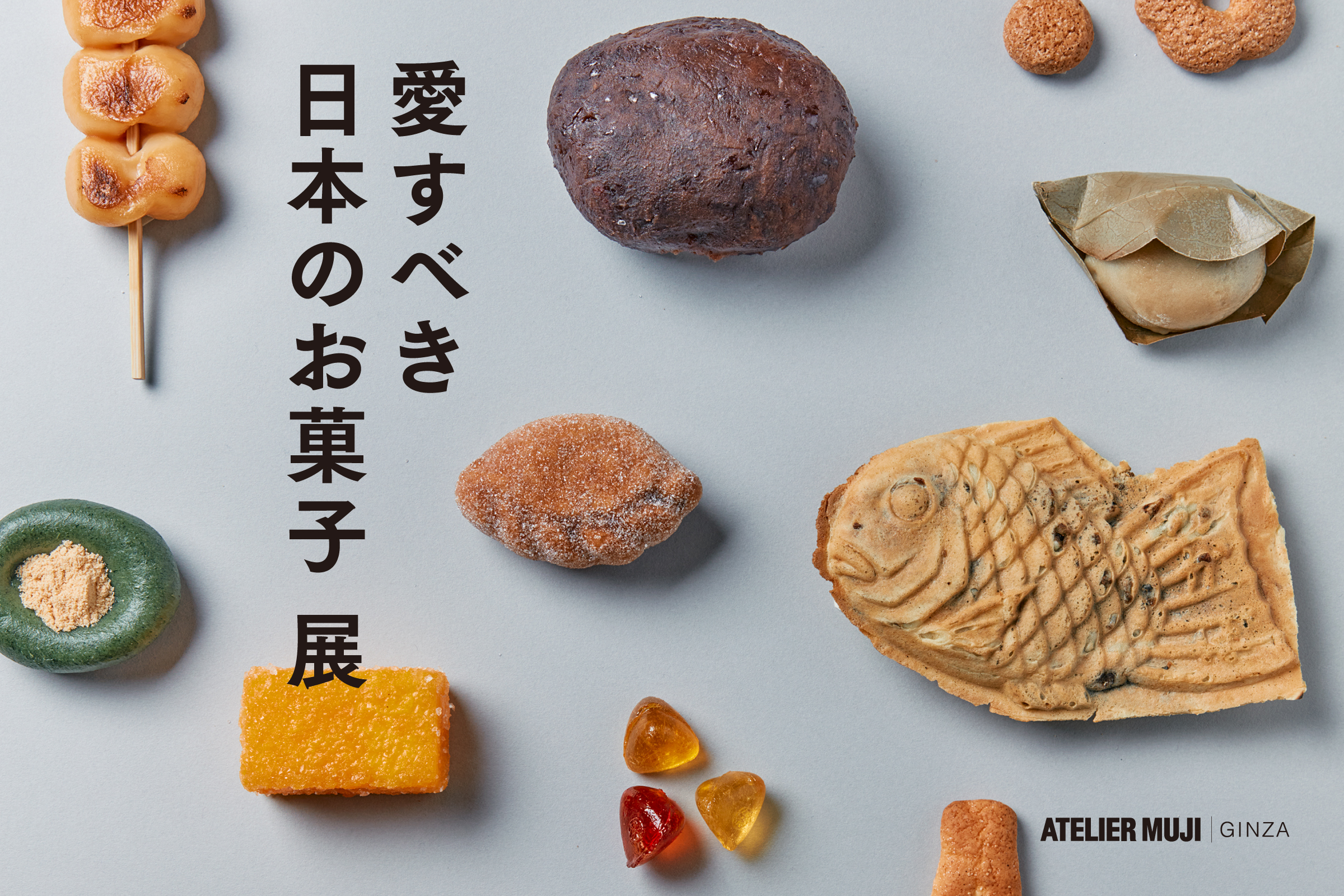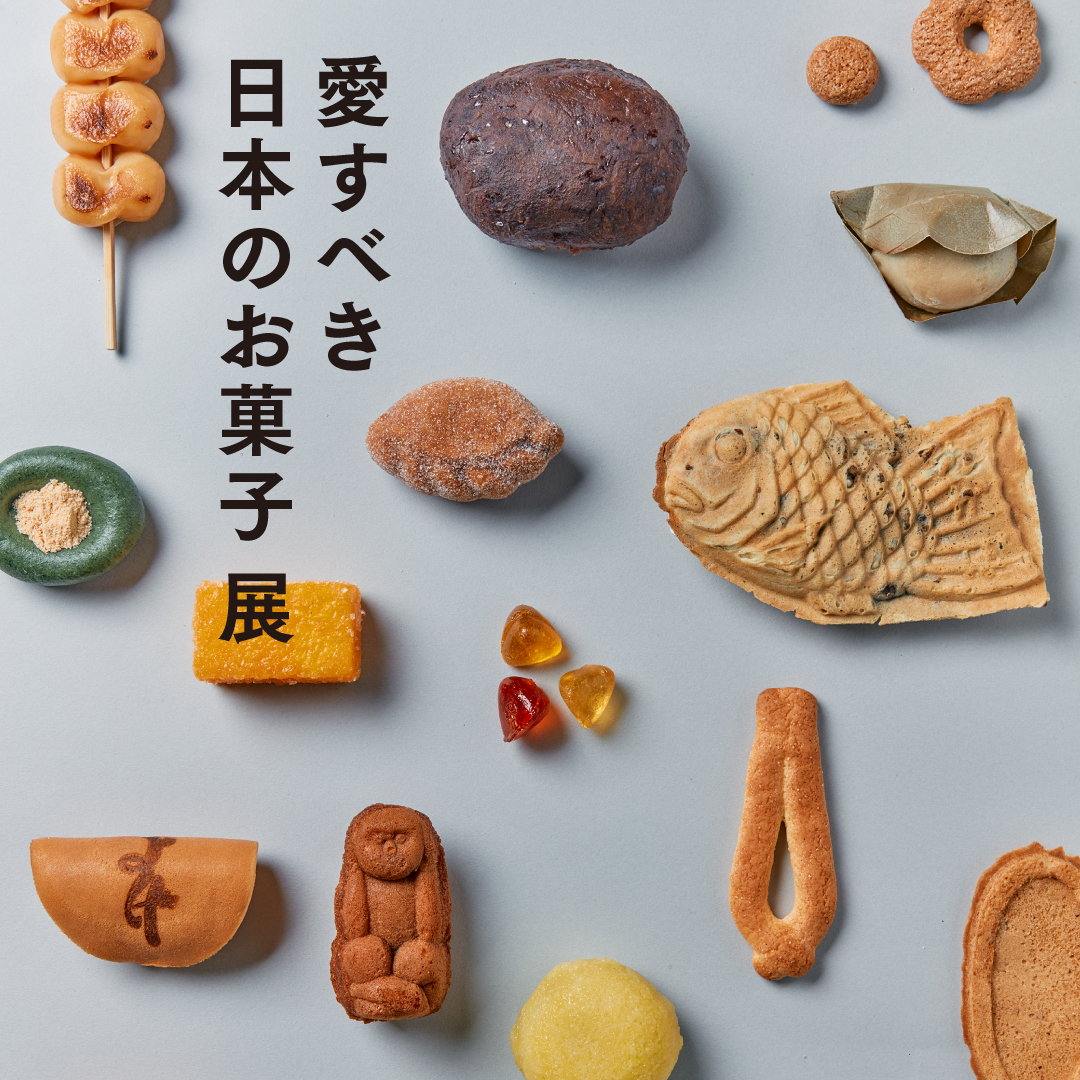 Since ancient times, Japanese confectionery has been made from plant-derived raw ingredients such as grains (rice, wheat etc), beans (red beans, soybeans etc), or arrowroot starch (kuzu flour).
Since the widespread distribution of sugar in the Edo period (1603-1868), confectionery has also spread as part of the food culture of the general public in Japan. Craftsmen have developed it by making use of ingredients nurtured in each local climate with their own unique intelligence and ingenuity, while maintaining a close relationship with their local culture.
We, at MUJI, also make the most of the ingredients themselves and treat them as an important part and the basis of our manufacturing. In the field of food, we have always tried to take advantage of the natural flavours and umami in ingredients, and by combining these two elements, we strive to bring out all their tastes and aromas.
Today, due to the diversity of food and changes in consumer behaviour, convenience and visual splendor are prioritised as product values in food. However, Japanese confectionery, made from simple, natural ingredients, conveys the ideas and personalities of its makers and teaches us the sensation of savouring the luxury of the ingredients themselves.
In this exhibition, we work with Tomoko Nagao, a chef who values the relationship between food and life and thinks about the comfort of simple food. Here we take a fresh look at long-loved ordinary sweets, to understand makers' narratives and thoughts, with photographs, films and texts. We hope that it will provide an opportunity to look at the blessings of nature and the power of ingredients, and to think together about finding wealth in these simple things.
                                            ATELIER MUJI GINZA
---
What are Japanese sweets to you? Some familiar confectioneries since our childhood: Odango (Sweet dumpling), Manju (Sweet bun), Sembei (Rice crackers), Daifuku (Mochi filled with sweet red bean paste) or Ohagi (Sticky rice cake)… Have you stopped eating traditional sweets?
We are surrounded by a variety of Western, Japanese and Western-influenced Japanese confectionery, becoming more and more colourful, visually pleasing and vibrant. Whereas this present confectionery world provides us with something special, it's true that the usual, familiar, not-so-spectacular looking or tasting sweets are the ones we always reach out for when we have a break during work, or enjoy as a regular snack. Neither a change of scenery nor a special event, these everyday snacks have been around us for a long time.
The vast choice of confectionery that surrounds us in this age of luxury includes anything and everything; it looks so chaotic, just like this period we live in.
In these days where we often lose sight of many things, we feel like spending more time selecting what we eat every day, filtering and making choices a little more. Our head thinks a simple, waste-free life is ideal, but looking at the overflowing volume of sweets available, reality is still far from it. We make things as we want them, so if what we want becomes simpler, then simpler things should appear.
I believe that it is no exaggeration to say that one of the clues to getting things right and finding comfort is to be found in familiar Japanese sweets. Acknowledging once again that these Japanese sweets are made from just rice flour, sugar and azuki beans, it makes us realise how we can find something important in simplicity.
This exhibition displays Japanese confectionery which is all familiar to everyone. By collecting them all together here, we can confirm what these sweets really are to us: some have stayed unchanged for a long time, while others are not so old but express their makers' ideas very well in the end product, and some play a particular role in being recognisable nationwide. What they all have in common is that you can taste the ingredients when you eat them, and they settle in your stomach comfortably, as natural as taking a deep breath. When eaten with a cup of tea or some other drink, they help to relieve our fatigue and calm the mind, and they are an essential reminder of the true nature of things. An unpretentious taste may help you go back and find your true self naturally, and you can discover the maker's intelligence and ingenuity in the way he or she uses only a few ingredients. If you find that the appearance is cute and charming, this signifies the maker's spirit.
So, after looking at all these sweets, you'll probably want to eat something. There are as many Japanese sweets as there are stars in the sky. Let's take a break with some familiar sweets.
One sweet a day – have a good day with our beloved Japanese confectionery!
Tomoko Nagao
Opening Times:
11:00 ― 21:00
*Opening hours may change. Please check the latest information on the official ATELIER MUJI GINZA website.
Venue:
MUJI GINZA 6F ATELIER MUJI GINZA Gallery 2
Admission free
Organised by: Ryohin Keikaku Co. / Cooperation: Tomoko Nagao / Graphic design: Yuko Higashikawa